YU-1A corrosion resistant liquid pump
The main parameters
Maximum flow: 1.8 ~ 360 m³/h
Head: 3.9 ~ 57m
Temperature: -50 ℃ ~ 150 ℃
CDL Vertical Multistage Centrifugal Pump
CDL / CDLF is a versatile product that can convey various medium from tap water to industrial liquid, adapted to different temperatures, flow and pressure ranges, CDL suitable for non-corrosive liquids, CDLF suitable for mildly corrosive liquids.
The main parameters
Maximum flow: 0.4 ~ 110m³/h
Head: 17 ~ 30MPa
Power: 0.37 ~ 45KW
Temperature: -15 ~ + 120℃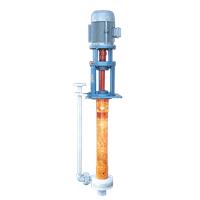 YU-2 corrosion resistant liquid pump
YU-2 series under corrosion resistant liquid pump which flow components using high performance ultra-high molecular weight polyethylene (UHMWPE), molded integrally. This material is known as the worlds most innovative corrosion resistant plastic pumps, its most prominent feature is: all the engineering plastics, it has the most excellent wear resistance, impact resistance, creep resistance . It also has excellent corrosion resistance, suitable for conveying the acid in the range of -20 ℃ ~ 90 ℃, the alkaline slurry or acidic, alkaline serum, it is an ideal alternative rare metals pump. The series can be widely used in the following industries: 1. Non-ferrous hydrometallurgy industry: particularly suitable for lead, zinc, gold, silver, copper, manganese, cobalt, rare earth hydrometallurgy of various acid or alkaline solutions, corrosive slurry, electrolyte, waste acid , sewage and other media delivery. 2. Sulfuric acid phosphate fertilizer industry: acid, mother liquor containing silica fluorosilicic acid, phosphoric acid slurry and other transmission medium. 3. Environmental water treatment industry: transport all kinds of waste water with impurities. 4. Pesticides, dyes, fine chemical industry: acid-containing liquid can be transported solvent, mixed acid, but also transport and solvent-containing slurry containing acid, alkaline slurry solvent.
The main parameters
Maximum flow: 4 ~ 500m³/h
Head: 12 ~ 50m
Power: 1.1 ~ 75kw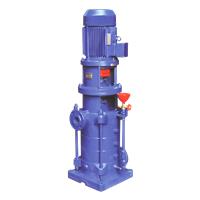 DL, DLR Vertical Multistage Pump
DL, DLR type pump is vertical single suction multistage centrifugal pump for conveying solid particles in water and physical and chemical properties similar to liquid water in. Mainly used for high-rise building water supply, can also be used in factories and mines drainage, transmission fluid flow rate in the range of 6.2 ~ 280m³ / h, head range of 18.5 ~ 225m, matching power range 1.5 ~ 200kw, and diameter range Ф40 ~ Ф200mm. DL, DLR series pumps are suitable for industrial and urban water supply and drainage, high-rise building pressurized water, fire booster, long-distance water, heating, bathrooms, boiler heating and pressurized water cycle, air conditioning and refrigeration systems and equipment for bottled water and other occasions. DL type medium temperature does not exceed 80 ℃, DLR type medium temperature does not exceed 120 ℃.
The main parameters
Maximum flow: 6.2 ~ 280m³/h
Head: 18.5 ~ 200m
Power: 1.5 ~ 200KW
FYH fluorine plastic liquid pump
FYH fluorine plastic liquid pump is long axis vertical centrifugal pumps, liquid contact portion of all fluorine plastic from a system with a wide range of corrosion-resistant, high efficiency, light weight, without irrigation fluid that is able to pump, easy maintenance and so on. This product is widely used in conveying acid, organic solvents, strong oxidants and other corrosive media.
The main parameters
Maximum flow: 7.5 ~ 50m³/h
Head: 25m
Power: 3 ~ 7.5kw
Temperature: -20 ℃ ~ 95 ℃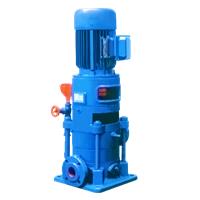 LG Vertical Multistage Centrifugal Pump
LG series pump is single suction multistage vertical centrifugal pumps, water-like liquid for conveying water or physical and chemical properties, mainly used in high-rise building water supply, it can also be used in urban, industrial water supply and drainage.
The main parameters
Maximum flow: 6.5 ~ 50m³/h
Head: 30 ~ 120m
Power: 0.75 ~ 30KW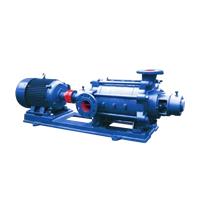 TSWA Horizontal Multistage Centrifugal Pump
TSWA series horizontal multistage centrifugal pump-based, single-suction multistage, sub-structure, is the latest development and production of energy-saving products, the Department of TSWA type multistage centrifugal major technological transformation of new products. Its performance parameters and technical indicators have greatly improved, with high efficiency, low noise, anticavitation performance, reasonable structure, long life and other notable features. TSWA multistage centrifugal pump series of five varieties of 40 specifications, the performance range Flow Q = 1.5 ~ 191m³/h, head h = 17 ~ 247m, speed n = 1450r/min. TSWA multistage centrifugal pump for conveying water below 80 ℃ or physical and chemical properties similar to other liquid water, widely used in urban construction, factory, mine drainage, especially for hotels, restaurants, entertainment refrigeration, conditioning of water supply.
The main parameters
Maximum flow : 1.5 ~ 191m³/h
Head: 17 ~ 247m
Power: 2.2 ~ 180KW
LJYA slurry pump
LJYA series pump is single stage vertical centrifugal cantilever sump pump, the bearings are not in contact with liquid, suitable for conveying the particles containing less than 35% less than 0.2mm solid particles, corrosive liquid used in petroleum, chemical, fertilizer , paper industry, steel mills and water and other industrial sectors. LJYB type suitable for conveying solid particles, viscosity similar to water. This series performance range: flow rate 7 ~ 380m³/h, head of 10 ~ 40m. According to the medium of the pump corrosion, user selectable flow material of main parts used part of the material, pump contact with the media have OCr18Ni9Ti, 1Cr18Ni12Mo2Ti, 1Cr18Ni12Mo2Ti, OCr18NiMo3Ti, J-1 alloy, CD4MCu, 20Cb3 other materials. This series of pumps cantilever length (refer to the bottom center of the impeller) is 1-1.8m, according to user need to select when ordering.
The main parameters
Maximum flow: 7.5 ~ 50m³/h
Head: 25m
Power: 3 ~ 7.5kw
Temperature: -20 ℃ ~ 95 ℃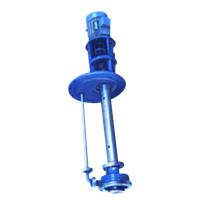 SBFY Series Chemical Liquid Pump
SBFY Series chemical liquid pump is a vertical single-stage single-suction centrifugal pump. For conveying solid particles and crystal is not easy corrosion body. Thermometer transported medium is -20 ℃ ~ 150 ℃. Special needs for time -50 ℃ ~ 150 ℃. Sump pump working portion submerged in the liquid, the seal without leakage. And occupying the ground is small, reliable, easy maintenance, corrosion resistance and other characteristics. Widely used in chemical, oil and other industrial sectors.
The main parameters
Maximum flow: 1.8 ~ 360m³/h
Head: 3.9 ~ 57m
Temperature: -50 ℃ ~ 150 ℃
YWB No Shaft Liquid Pump
YWB no shaft liquid pump for at -85℃ ~ 350℃ conditions, long-term transport any medium acids, oxidizers and corrosive media, widely used in chemical, petroleum, pharmaceutical, pesticide, electronics, electricity, electroplating, metallurgy, fire protection, environmental protection, national defense, rare earth smelting and other industries. Its deepest liquid up to 8 meters, use of time is ten times the number of ships under the long axis of the liquid pump, installation is very easy to use, to overcome the original single-stage single-suction sump pump during transportation and installation of shaft run easily bent and deformed ( shaft length equal to the submerged depth), bearing easily damaged, difficult to repair sleeve shortcomings. YWB no shaft liquid pump is based on the majority of the chemical industry user requirements and design of new products, the use of external mixing type pump self-priming structure, except for the first start for the first time are required to fill the pump body pump solution, after the frequent start without perfusion diversion or pumping vacuum, easy to operate, safe and easy. Mechanical seals and domestic joint manufacturing company by the British Grand packing, reasonable structure, reliable performance, easy maintenance, energy conservation, is the ideal civilization plant construction equipment, effectively solve the long axis of easy to bend and leak. YWB no shaft liquid pump production, manufacture and acceptance of non-shaft pump products, strict compliance with the relevant standards and Taiwan and Taiwan detection, the record of unknown origin, in order to ensure the quality of products. The products were used F46, UHMWPE ultra-high polyethylene Xi River, 1Cr18Ni9Ti, 1Cr18Ni12Mo2Ti, 0Cr18Ni12Mo2Ti, Japanese standard SUS321, Japanese standard SUS304, Japan Standard SUS304L, 316 American Standard, American Standard 316L, CD4MCu, K alloy, Monel alloy, Hastelloy B alloy, Ti alloy and various cast steel, cast iron, copper, aluminum and other materials. A full range of 5 models 10 specifications, head: 10 ~ 25m, flow rate: 3.6 ~ 400m³/h.
The main parameters
Maximum flow: 4 ~ 500m³/h
Head: 12 ~ 50m
Power: 1.1 ~ 75kw