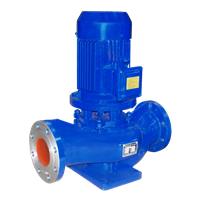 ISG series vertical pipeline pump
ISG series single stage single suction piping centrifugal pumps are smartly designed on the basis of ordinary vertical pumps jointly by our scientific and technical personnel with pump experts at home.They use domestic advanced hydraulic model and the performance parameters of IS centrifugal pumps.According to the difference in service temperature,medium and conditions etc., there have been hot water pumps,high temperature pumps,anticorrosion chemical pumps,oil pumps,explosion-proof chemical pumps and low speed pumps derived from ISG.Featuring high efficiency,energy conservation,low noise and stable performance etc., this series of products conform to the latest standard of JB/T53058-90 issued by Ministry of Machinery,P.R.China,and are designed and manufactured to ISO2858 standard.
The main parameters
Flow:1.1~1500m³/h
Head:7~156m
Power:0.18~250kw
ISW Series Horizontal Pipeline Pump
ISW series horizontal centrifugal pump, scientific and technical personnel of the unit is the United Nations pump expert selection of domestic excellent hydraulic model, the IS-type centrifugal pump performance parameters, based on the generally horizontal pumps clever combination of design made according to the same time temperature, different media ALG derived based on the application of hot water, high-temperature corrosion-resistant chemical pumps, oil pump. This series of products with high efficiency, low noise, reliable performance, etc., to meet the latest requirements of the national machinery of the standard JB / T53058-93, the products according to the international ISO2858 standard design and manufacturing.
The main parameters
Flow: 1.1 ~ 1203m³/h
Head: 7 ~ 133m
Power: 0.37 ~ 160kw
ISGB Series Easy-disassemble Pipeline Pump
ISGB, IRGB type will be demolished vertical pipeline centrifugal pump is a structure in ISG developed on the basis of new, technologically advanced pumps. The vertical pumps, especially carried out on the overall structure of a bold breakthrough in design, independent body bearing, shaft support, to solve the original vertical pump at the motor shaft extension support deficiencies; impeller pump using modern most excellent hydraulic model design and manufacturing, eliminating the original vertical shaft to force the inadequacies; motor is Y series standard universal motor, to solve the original vertical pumps plus the long axis of the motor supporting replace the difficult problem; while 100% of the structure will be demolished to solve replace high-power pump bearings, mechanical seal, impeller, shaft problems. The pump compared with similar domestic products, with a more stable operation, long life, supporting more convenient, easier maintenance and other irreplaceable advantages. In the case of vertical pump products in domestic initiative, technical lead at home is an alternative ISG vertical pump, IS centrifugal pump, S-type double-suction centrifugal pump and other conventional best products.
The main parameters
Flow: 4.4 ~ 1450m³/ h
Head: 12.5 ~ 125m
Power: 0.37 ~ 250kw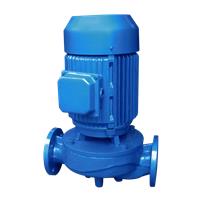 SG Series Pipeline Booster Pump
The series pipeline pump is pressurized pipeline transportation, pipeline pressure is too low to resolve the development of new pumps, horizontal centrifugal pump than the current application has great advantages. As a result of advanced mechanical seal, impeller mounted directly to the motor shaft, so the high efficiency, low power consumption, compact structure, small size, light weight, easy decoration, etc., can be used in tandem according to need and lift and flow.
The main parameters
Flow: 0.6 ~ 1200m³/h
Head: 5 ~ 180m
Power: 0.04 ~ 55.5kw
SPBG Series shielded Pipeline Pumps
SPBG series shielded pipeline pump, shield pump to absorb the international advanced design and manufacturing technology, electrical shielding technology in the field of fluid transport, to meet the domestic market demand and latest series of new products. SPBG series shielded pipeline pump performance parameters in line with the provisions of international standards ISO2858 and national standard JB/T6878.2-93 of. With the design specification, high level of generalization, reasonable structure, stable performance, notable features running low noise, no vibration, etc., is an alternative to conventional horizontal centrifugal, vertical pipeline pump ideal product. There are 67 varieties, 184 specifications, the performance range: Flow 6.3 ~ 1080m³/h, head 12.5 ~ 125m, with motor power 0.37 ~ 160kw, speed 1450r/min and 2900r/min.
The main parameters
Flow: 6.3 ~ 1080m³/h
Head: 12.5 ~ 125m
Power: 0.37 ~ 160kw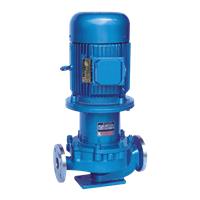 CG Series Magnetic Drive Pump Pipeline
CG series of magnetic drive centrifugal pipeline pump (referred to as magnetic pipeline pump). By motor, magnetic coupling, corrosion-resistant centrifugal three major components. Its main feature is the new product of the permanent magnet couplings used in centrifugal pump works, reasonable design, advanced technology, with fully sealed, no leaks, corrosion resistance, its performance has reached the advanced level of similar foreign products. The basic parameters of the type and technical performance in line with JB / t7742-95 (mini magnetic drive centrifugal pumps) standards.
The main parameters
Flow: 1.6 ~ 100m³ / h
Head: 12.5 ~ 80m
Power: 0.37 ~ 37kw
Operating temperature: ≤80 ℃