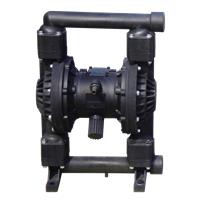 QBY pneumatic diaphragm pump
Factory production QBY series pneumatic diaphragm pump is a new transport machinery, is currently one of the most innovative pump. Using compressed air as power source for a variety of corrosive liquids with particles of liquid, high viscosity, volatile, flammable, poisonous liquid can be pumped exhaust. The factory currently has a series production, total of eight specifications diameter: Φ10mm (3/8 ), Φ15mm (1/2 ), Φ25mm (1 ), Φ40mm (3/2 ), Φ50mm (2 ), Φ65mm (5/2 ), Φ100mm (4 ). Four of its material, aluminum, cast iron, stainless steel, engineering plastics. Diaphragm pumps were used nitrile rubber, chloroprene rubber, fluorine rubber, PTFE depending on the liquid medium. To meet the needs of different users. The pump has been domestic oil, chemicals, electronics, ceramics, textiles and widely used system units installed in a variety of special occasions, for pumping a variety of conventional pump can not pump the media, have achieved satisfactory results.
The main parameters
Flow: 0 ~ 30m³/h
Head: 0 ~ 60m
Self-priming height: 7m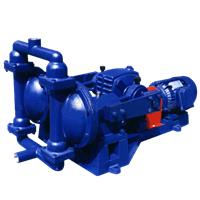 DBY electric diaphragm pump
The new research and development of new electric diaphragm pump, using BLY series cycloid reducer transmission power, instead of the traditional turbine worm reducer. Meanwhile, in recent years the membrane material has made breakthrough progress, so that the pumps can replace part of a broader centrifugal pumps, screw pumps, submersible pumps, mud pump and impurity pump, used in petroleum, chemical, metallurgy, ceramics and other industries .
The main parameters
Flow: 0 ~ 30m³/h
Head: 0 ~ 30m
Self-priming height: 7m